Titan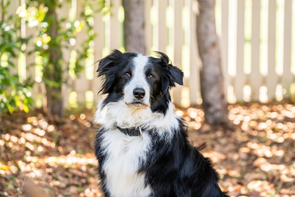 Titan is a 10 year old border collie.  He became a qualified animal assisted therapy dog in 2018.  Titan spends most of his days at home with his family.  He has three young human siblings.  He enjoys being outdoors, fetching, swimming and car adventures.  You may see Titan working with his owner Matt Simmond (Clinical Psychologist) or spending time assisting around the office.  
Animal assisted therapy is a complimentary aspect incorporated into traditional evidenced based interventions.  Animals assist many children and adolescents to feel more relaxed and can assist with engagement for those who are reluctant to participate or have difficulty or reluctance to engage in a more traditional therapy modality.  There is a rapidly growing evidence base supporting the benefits of pet ownership and use of animal assisted therapies to compliment traditional therapies.  
If you are having a session with Matt and Titan we will provide you with some more specific information about the do's and don'ts.  If you are visiting the clinic you are welcome to introduce yourself and Titan is generally very welcoming of pats.  We understand that not everyone is a dog lover you and the layout of the practice allows you to see him from afar if you do not wish to have a close encounter.  If your child has any dog phobias please notify our administration staff.